Vladimir Putin has rejected plans to expel US diplomats in a tit-for-tat retaliation against Washington – and instead invited their children to visit the Kremlin.
The surprise announcement from the Russian President comes hours after foreign minister Sergei Lavrov said he would be asking Mr Putin to declare 35 US officials in Moscow and St Petersburg as "persona non grata" – the same number being expelled by the US.
Mr Putin condemned the US action and said Russia had "all the grounds for a comparable response" but added: "We will not create problems for American diplomats. We will not expel anyone." 
He said he reserved the right to retaliate but would wait and see how Donald Trump acts when he succeeds President Barack Obama next month.
Great move on delay (by V. Putin) – I always knew he was very smart!

— Donald J. Trump (@realDonaldTrump) December 30, 2016
Mr Trump responded on Twitter, praising Mr Putin's "great move on delay" and adding: "I always knew he was very smart!".
The Russian President said he would not stoop to the level of "kitchen irresponsible diplomacy" and even extended an invitation to the children of American diplomats to a festive party at the Kremlin. 
His unexpected response comes after President Obama reignited simmering diplomatic tensions with Moscow just three weeks before he leaves the White House.
Mr Obama took action in response to cyber attacks blamed on Russia that disrupted the US presidential election, and claims of harassment of US diplomats in Russia.
The US has ordered the expulsion of diplomats based in Washington and San Francisco as well as sanctions against Russian intelligence services.
It also plans to shut Russian compounds in New York and Maryland, while the FBI has published 'wanted' posters of alleged Russian hackers.
The Kremlin has denied the allegations, with foreign ministry spokeswoman Maria Zakharova saying that some of the diplomats being expelled had only been in their posts for a few months, meaning they could not have been involved in the cyberattacks.
Mr Putin said the moves were a "provocation aimed to further undermine Russian-American relations" and that he regretted that Mr Obama's administration would end in this way.
His announcement comes despite Mr Lavrov earlier saying that the US "stunts" could not go unanswered.
The foreign minister ridiculed the idea that the Russian compounds to be closed were "nests of spies", saying they were used for children's holidays.
But Mr Putin rejected Mr Lavrov's proposals to shut similar sites in Moscow.
Earlier, Russian PM Dmitry Medvedev called the US sanctions the "anti-Russian death throes" of the outgoing leadership.
The Russian embassy in the UK tweeted that "everybody, incl (the American) people, will be glad to see the last of this hapless Adm" together with a picture of a "lame duck".
Mr Trump does not share the current President's hostile outlook towards Russia.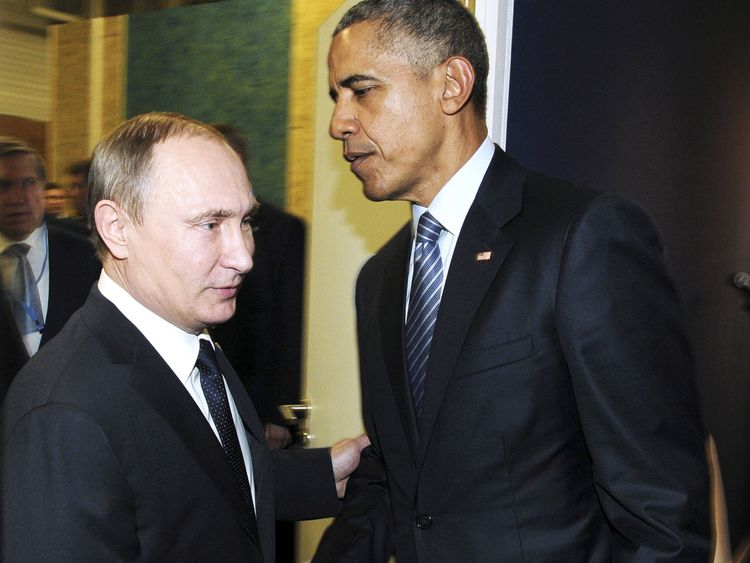 The Kremlin has said that, with Mr Obama only in office for three more weeks, it would refrain from acting like a "bull in a china shop".
President Obama said in a statement announcing the measures against Russia that they were a "necessary and appropriate response" after repeated warnings to Russia over "efforts to harm US interests".
He said the alleged hacking "could only have been directed by the highest levels of the Russian government", adding: "All Americans should be alarmed by Russia's actions."
Mr Trump, who has been dismissive about the hacking claims against Russia, issued a statement saying it was "time for our country to move on to bigger and better things".
However, he said he would meet intelligence officials next week to be "updated on the facts".
Mr Trump will be able to reverse Mr Obama's actions when he takes office, should he wish.
Source : Sky News